Is it possible to reach your goals with your training, develop your physique and have a six-pack when age starts ticking over 60? Let me present Alireza, the living proof that age is just a number and that anything is possible even though one has walked on this earth for over 60 years.
When I think back to the day I first met and saw Alireza, "Ali" as I call him, I remember how I thought: "If I am that healthy, strong and energetic when I reach that age, I can count myself happy.". Seeing a man at that age possess such a physique, be so strong, healthy and sharp gives oneself a strong motivation to continue training, keeping going and continue one's own journey forward.
We work with clients of all ages and questions like these always come up on a regular basis:
I'm xx years old and maybe it's too late, but I've always had a dream to …
I'm probably too old for this really but …
I think it's not possible to achieve this anymore because of my age …
Sure, we may not all be as fortunate with our genetics as some others. Diseases and other ailments can also stand in the way. We do not get younger either and age usually results in hormone production stagnating and testosterone levels begins to get lower among men. As we all know, testosterone is very important when it comes to building muscle, burning fat and overall health. But during the amazing journey that Ali and I made together, he has opened a door for me and for so many others. Seeing Alireza's development week after week with his 60+ years on this earth has shown me, as a trainer and coach, that the things we can do to maintain good health, continue to build muscle and keep up a high fat burning process are really working and fully possible even at this age.
When I answer the questions that the clients above have asked me, I can, after the journey with Ali, with a clear conscience say: It is possible and there is no better time to tackle it than right now!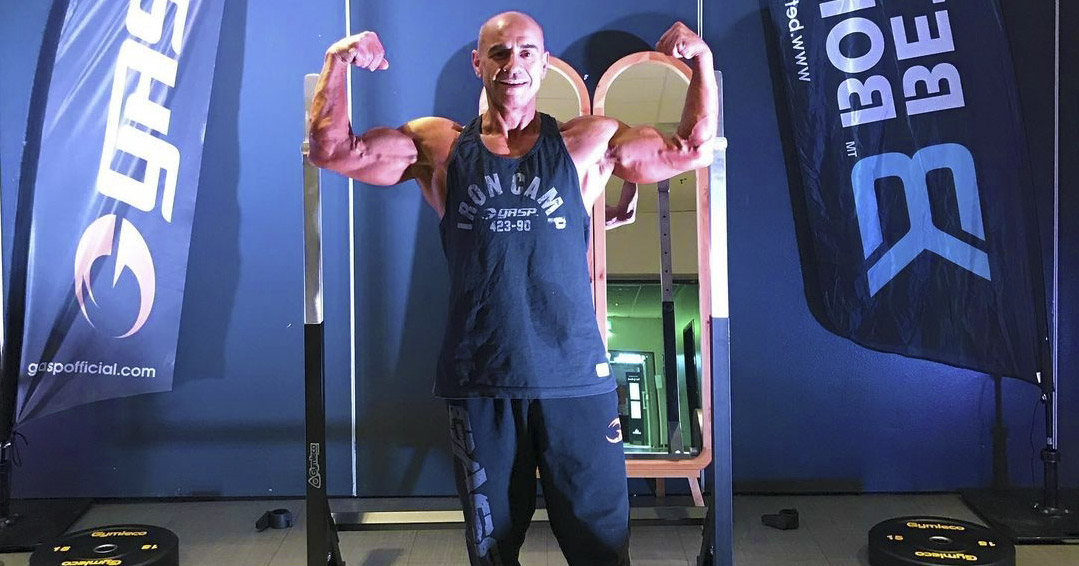 A happy Ali on a studio shoot arranged by Betterbodies and the Lucia Cup team.
Ali's and my journey officially began at the end of 2019. We had previously trained at the same gym and had that "gym friendship" where we happily greeted each other and sometimes, between sets, chatted a bit. I myself made several competition preps when I trained at this gym and Ali followed closely my development the times we happened to be working out at the same time. He was also in the audience during one of my competitions at the Finnish Championships. I smile and rejoice now when I remember back over his support and cheers in the audience. He cheered very loudly, so to say! Haha, awesome – good old times!
One day, some years after that competition, my phone rings and I recognize the voice immediately. It's Ali and he's thinking a bit about our coaching, the competition team Team Trifinity and I get the feeling that he is interested in starting to build on his physique and maybe one day compete. We book a meeting, look things over and start the journey, together, with the goal of developing his muscle mass, fitness and physique. Which competition was there and then not completely decided but we took the day as it came, made sure everything went in the right direction and had fun on the journey forward.
Full time job, built a house and big goals
Ali was such a client that you know that he does what he is supposed to and a little more. He was this kind of client that you actually have to keep an eye on so he is not doing too much. If I were to say that he reaches his goals by running around the world one lap, he would have run two … just to be on the safe side. You have to learn, as a trainer and coach, when to pull the brake and when to press the gas. That balance is so important and you need to know when and how to use these two "pedals" (gas and brake) with each individual client. The client in turn teaches himself to also use these "pedals" in his life and everyday life. Some need more gas and others need a brake. It is up to each and everyone of us to find that balance.
His training program was based on 4-5 strength training sessions a week where we varied between both high and low reps. A great amount of focus was put on techniques where we worked on taking advantage of and exhausting the eccentric phases (when the muscles under contraction are lengthening), iso-hold techniques (different static tensions/holds for a certain time in different positions of an exercise) and to take use full ROM (full range of motion) in the exercises. It was when we implemented these techniques that the great results and his incredible development began to take place. When it came to cardio training, we kept it close to zero. A 10-15 minute cardio workout after a one or two workouts per week was done. During our collaboration, Ali built a house and he got the cardiovascular training he needed from that for the moment. There was simply no logic in adding more here and energy, time and focus were needed for the construction project. I am also not a big fan/follower of these huge amounts of cardio workouts, many sometimes put in with the belief that this is needed to achieve certain goals. Sometimes more is needed, sometimes less and sometimes almost nothing at all. Also, it was not just any small shed he built but a really big and nice house! I felt that it was not my job to apply the brakes when it came to building the house, it is outside my coaching area. The priority was kept on strength training with a focus on hypertrophy and muscle growth.
So, not only to lift the hat because he made incredible results for his age, we can also add that he made this work at the same time he built the house, worked a full time job and everything else he wanted to do and find time for in his life and everyday life. Ali also proves that you can find and have time, as long as you want to.
Progress and Competition Plans
After a while into the collaboration, we began to see the incredibly good progress he was making and the pieces of the puzzle began, one by one, to fall into place. The dream and goal of competing one day seems to come true. We make sure that he fixes what he needs with competition licenses, ADK contracts (anti-doping contracts) and we aim for a competition in Classic Bodybuilding and Masters class. Masters are counted from 35+ years of age and are often divided, at competitions, into the classes +35, +40, +45, +50, +55 and +60. Which classes are found at the competitions always depends on how many contestants there are in each age group. Ali also has the advantage of dual citizenship, Swedish and Finnish, and we were able to review alternatives on both sides. We found a very suitable competition in Sweden for him that would take place at the end of 2020 and within the Masters class +50. His fine development and progress also gave us the opportunity to aim for the Veteran / Masters SM (Swedish Championships). There he would stand among the best, within his category, in Sweden. His physique was on such a high level. The sight was set and we kept the party going.
The corona pandemic came and stayed
The year 2020 began calmly and peacefully and we managed to work "undisturbed", so to speak, for a few months before something, as we all know what, struck. News about this virus called Corona began to flourish and at first we did not know much what this really was and how we would deal with it. If we know much more today is another question. In any case, it did not directly put any "sticks in the wheels" for us and we did what we could according to what the situation allowed at the time. The competition plans were not changed but we took the day as it came. The competition organizers seemed to keep their promises that a competition would be held and the schedules were kept. We did not know then and there how long and serious this would be. The verdict came 3 weeks before the competition in an email where the organizers told that the competition would be canceled due to Corona. Even though we had tripped on our toes for a long time and waited for a decision like this, it was a very difficult day for both of us. On the one hand we could breathe a sigh of relief when we got it black and white and on the other hand it was obviously a big disappointment. Which it was for so many other competing athletes who were going to compete back then. I remember telling Ali to take that weekend off completely, enjoy a glass of red, have a lovely dinner with his wife and talk if you need to talk about it. Holding on to emotions is not a solution in this situation.
The competition organizers and better bodies arrange photoshoots
The days went by and we only had time to start looking ahead when we received an email where the organizers wanted to invite competing athletes, who had been registered for the competition, to a free studio shoot in Stockholm. We had been looking for some kind of "ending" to a competition season that had gone up in smoke and even though this was not something in the competition way at all, it was clear that he would sign up for it. The phone call I got from Ali, after the studio shoot, was absolutely fantastic. He was so incredibly happy that he had gone there and was able to complete many of the steps we had practiced. All the warm words he had received from the organizers, Betterbody's crew and everyone else on site made us both warm in our hearts. It was a very nice day full of joy and we talked about that it actually turned out quite well in the end. The pictures below are taken from the studio shoot in collaboration with the Lucia Cup's competition organizers, Gasp and Betterbodies.
I am very grateful that I had the opportunity to make this journey together with Ali. It has been really rewarding and fun to work with him. He has opened doors for many who think about the "is it too late" when it comes down a certain age and today Ali motivates both old and young.
Ali is living proof that age is actually just a number.
This trip started as a collaboration between coach and adept, but ended as a good friendship with many laughs already in the luggage and many more to look forward to in the future. Thanks Ali!